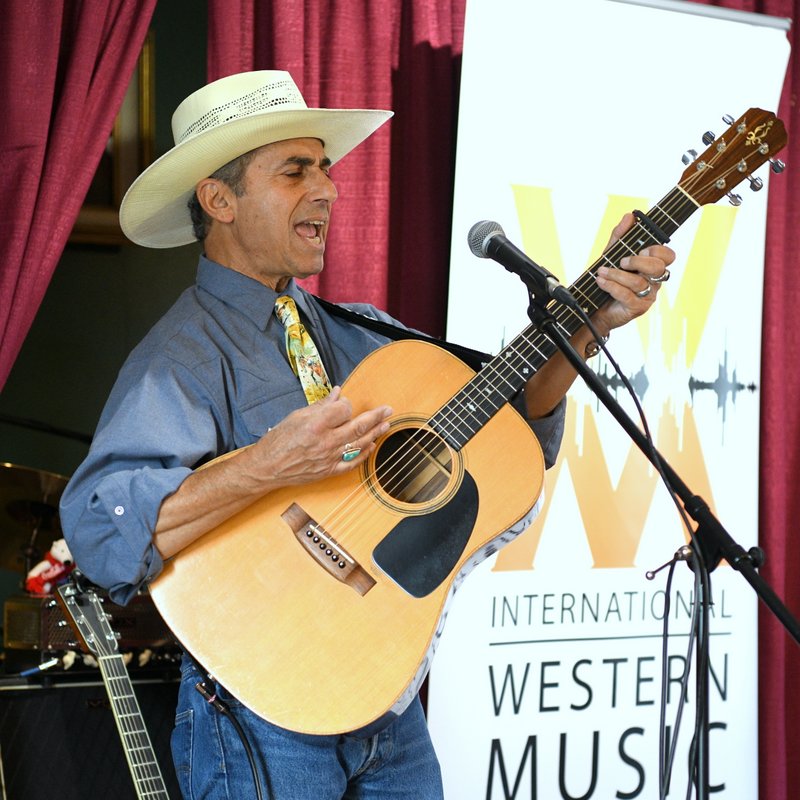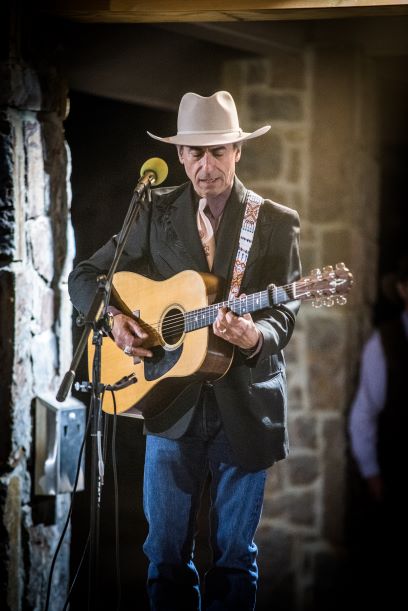 Kerry Grombacher plays guitar and mandolin and writes and performs contemporary folk and western songs. In the spirit of the troubadours of old, he paints vivid portraits and tells fascinating stories that are set in the landscape where he's worked and toured, from his home on New Orleans' Bayou St. John to the desert Southwest, and up to Montana and the Northwest forests. You'll find him at Folk Festivals and Cowboy Poetry Gatherings, singing his songs, playing mandolin as a sideman, and picking in the jam sessions and around the campfires until the last song is sung.
Kerry has performed on stages as varied as the Newport Folk Festival and Cowboy Songs & Range Ballads (Cody, WY), the New Orleans Jazz & Heritage Festival and the Durango Cowboy Poetry Gathering (Durango, CO). In addition to appearing at Folk Festivals and Cowboy Gatherings, he regularly sings his songs at performing arts centers, libraries, house concerts, and other music venues.
Kerry's recordings include the CDs, We Rode the River (2020), It Sings in the Hi-Line (2008), Sands Motel (2001), and Riding for the Brand (1999), and the tape releases, Dreams of New Orleans (1997) and Home to the West (1996). Artists including Belinda Gail, Jim Jones, Gary Prescott, Chris Chandler, The Texas Trailhands, Earl Gleason, Ed Stabler, Duke Davis, Lorrie Keating, and Trails & Rails have recorded his songs, and one of his tunes appears on the 2012 children's compilation, Cowboy Playground, released by Putumayo World Music.
In 2001, Kerry gave a concert beneath the neon signs on the parking lot of the Sands Motel on Historic Route 66 in Grants, New Mexico and the owner named a room for him! His 2012 "Highway 281 Troubadour Tour" followed that US Highway from the Canadian border to Mexico, with stops along the way for concerts.
In 2013, he appeared on the ABC Television adventure travel show, Born to Explore, and he's performed on the nationally distributed radio program, River City Folk, the Louisiana Jukebox television program, and the Montana television show, It's Still the West. He's been featured on the Route 66 website and in The Big Round-Up (www.cowboypoetry.com), and there's a room named for him at the Sands Motel on historic Route 66 in Grants NM!
Kerry Grombacher is a member of Folk Alliance International and the International Western Music Association, and he participates in the endorsement program for Elixir Guitar and Mandolin Strings.